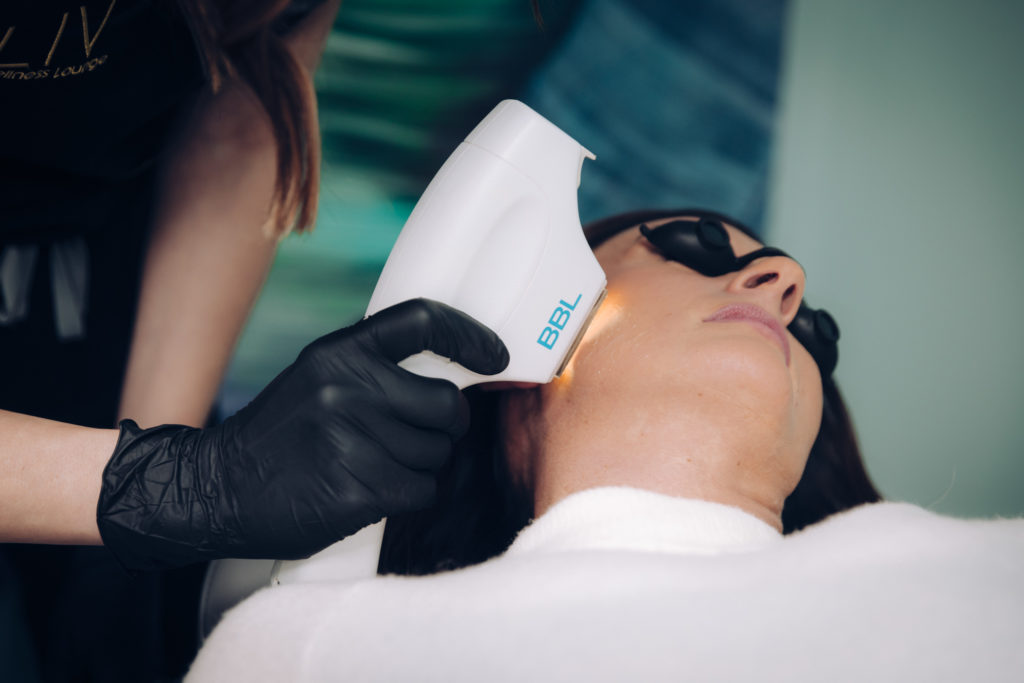 BBL Hero
Reverse signs of aging with BBL™ Hero
Everyone's skin changes as they age. So many factors go into how your skin looks, like sun exposure, repeated facial expression, and less collagen production. IPL (Intense Pulsed Light) uses light energy instead of lasers to trigger your skin's natural healing processes to rejuvenate your skin.
The most advanced IPL? Meet BBL Hero. We are proud to offer IPL photofacials in LaSalle using the latest innovation in IPL technology.
Treatment Highlights
Treatment Time: BBL Hero is 4x faster than its predecessors
BBL stands for BroadBand Light, which is a more advanced form of IPL. BBL has shown to actually change the gene expression of skin to resemble that of younger genes. BBL transforms skin cells at a molecular level, creating the appearance of more youthful skin!
Treatable Conditions:
Fine lines and wrinkles
Age spots
Sun spots
Freckles
Acne
Hyperpigmentation
Hair removal
Consultation
Before your IPL photofacial in LaSalle at LIV Wellness Lounge, you'll meet with one of our skin professionals for a complimentary consultation. We'll examine your skin using VISIA Skin Analysis and discuss your particular concerns and desired results. After determining that BBL Hero is the best treatment for your needs, we'll create a treatment plan tailored to you.
Treatment
We typically recommend a series of 2 to 4 treatments for the best results possible. For the treatment, we'll prep your skin and provide protective eyewear for safety. Then, we'll use the BBL Hero handpiece across your skin at a specific wavelength setting; we choose this setting based on your unique skin! The amount of time this takes depends on the treatment area(s). We can treat the face, neck, chest, arms, hands, legs, and back.
Results
One of the major benefits of BBL Hero is there is virtually no downtime! You can get right back to your day after your provider gives you aftercare instructions. We space out IPL photofacial treatments 2 to 4 weeks apart.
Combinable
Treatments
Your injector may recommend another treatment to combine with an IPL photofacial in LaSalle as part of a co-therapy strategy for maximum results.
Frequently Asked Questions
What is the difference between BBL and BBL Hero?

BBL Hero is a culmination of years of advancements, research, and improvements on the original BBL technology. BBL Hero works at 4x the speed, 3x the power, and 2x cooling capacity (for better comfort). Faster treatment time makes this treatment easier to work into your schedule. Multiple wavelength settings allow us to treat a wider variety of conditions, from acne to unwanted body hair!

How many BBL Hero treatments do I need?

We can determine how many BBL treatments you need to achieve your goals with a complimentary skin consultation with a LIV Wellness Lounge specialist. We'll learn about your concerns, desired results, and skin condition to recommend the amount of treatments necessary.

Is BBL Hero painful?

Most clients find this treatment very tolerable. The system uses CoolComfort™ technology to maintain comfort and optimal temperatures.
"This place is great! They listen & get you taken care of! I had IV Therapy for recovery after Covid! They got me right in & took great care of me immediately! So helpful & kind! Would highly recommend to everyone! Thank you!"
– Joanna L.
"LIV Wellness Lounge is an amazing place. The good quality, good value, professionalism, clean and on time , doesn't even begin to cover it. Sam and the girls make you feel right at home right from the start. They answer all your questions and ease any concerns that you might have. These girls are awesome. They all work well together and you can see they actually enjoy their jobs and each other. If you want to do something for yourself, give LIV Well Lounge a try. You won't go wrong."
– Lana H.
"Just went for the first time with my boyfriend to get IV therapy- wow we are blown away! They are SO friendly and welcoming. We received a tour and they took their time and didn't rush even when we were their last customers of the day. We are already feeling energetic and relaxed after our treatment. Small things like hand warmers, sparkling water, recliners and heated blankets show they go above and beyond to make sure you're comfortable. Elysia was amazing!!!! Will definitely be back :)"
– Macey H.
"I have been going to LIV Wellness since August of 2021. I went for some help with weight loss and continue to do so. I have also tried their a couple different wellness cocktails. I have to say my energy level has improved greatly. Recently, I had a HydraFacial with Lexi. My face feels so smooth and soft. Everyone is so friendly. Thank you everyone for always making my visit to the lounge so pleasant and wonderful."
– Cindy P.
About
Get to Know More About LIV Wellness Lounge
Our goal at LIV Wellness Lounge is to give you an experience like no other to help you achieve personal wellness—beyond the scope of traditional medicine. We view our client relationships as partnerships, where clients feel involved and thoroughly enjoy the experience of working with us to pursue your goals.
You're in the driver's seat with us as your sidekick; we combine our expertise with your needs to achieve the best results possible with an IPL photofacial in LaSalle at LIV Wellness Lounge.
Find out if BBL Hero is your perfect match today.
Tell us about your areas of concern and conditions to get instant treatment recommendations from our team of professionals!