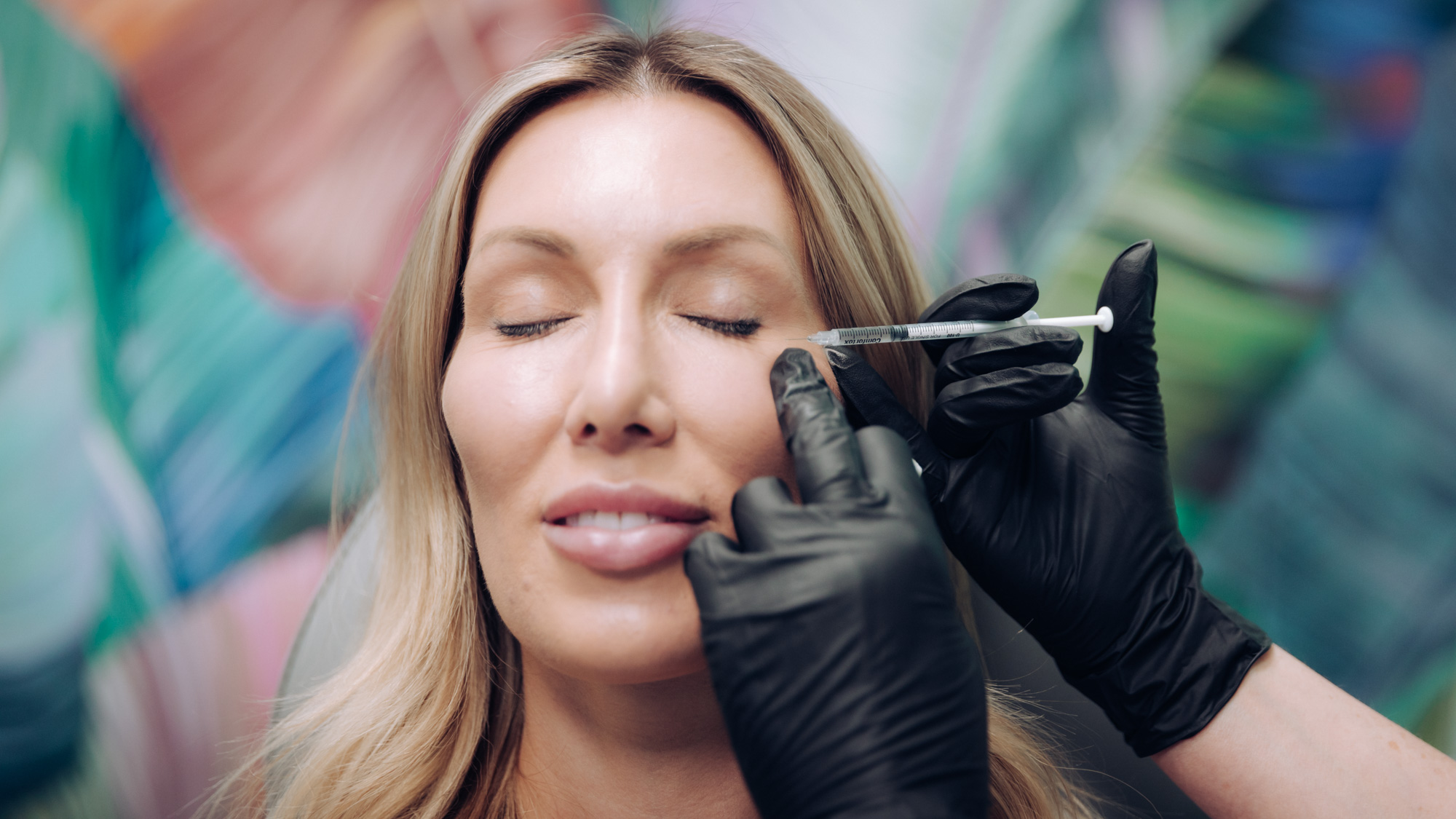 Wellness is a holistic experience and is different for every person. Oftentimes, the way we look contributes directly to how we feel and can affect our mental health. 
LIV Wellness Lounge is here to support your wellness inside and out. That's why we offer neurotoxin injectables, like Botox, as part of our aesthetic services for residents in LaSalle, Ottawa, and the surrounding areas such as suburbs of Chicago, including Naperville and Joliet.
Neurotoxins are not just used for our older clients, like some might assume. The benefits of Botox go beyond anti-aging. 
Our favorite benefits of Botox and neurotoxin injections
It works. 
Botox has been around for decades and has had proven results. The results are quick and effective.
Non-invasive
Unlike surgery, neurotoxin injectables do not require anesthesia or a long recovery period. 
Short treatment time
Neurotoxin injections are often called a "lunch-time" treatment because they only take 15 to 30 minutes. Plus, after your treatment you can get right back to your day!
Treats multiple conditions
Even though Botox started out as an anti-aging treatment, there are now multiple conditions it's able to treat. We can use neurotoxins to provide pain relief, sweat reduction, and several other conditions. (More on those below!)
What are neurotoxins?
Neurotoxins are a drug injected under the skin into the muscles. Muscle movement, tension, and other factors lead to wrinkles and other signs of aging. Relaxing the muscles results in fewer lines and leaves you looking younger!
At LIV Wellness Lounge we use two types of neurotoxins: Botox and Xeomin. Botox is the name that most people are familiar with and has been trusted for decades. However, both Botox and Xeomin use botulinum toxin A and are used to treat similar conditions. Those who use Xeomin will experience the same benefits of Botox.
Xeomin is called a "naked" neurotoxin, because it doesn't contain added proteins like Botox. This means that patients are less likely to develop a resistance to Xeomin's effects. Further, when using Xeomin, some patients find that their results last a little longer. 
Each of these neurotoxins are effective when used in treatments. Your LIV Wellness Lounge injector will work with you to determine which one would be best for you.
What to look for in a neurotoxin injector
The two most important things to look for in your neurotoxin injector are experience and training. Because neurotoxins require follow up treatments to maintain results, you want to make sure you like your injector and that you enjoy your visits to their office.
At LIV Wellness Lounge, all of our injectors are master level and have seen hundreds of patients. Our team is composed of registered nurses and nurse practitioners who bring their medical experience to every treatment.
We know that when it comes to aesthetic treatments, patients can feel particularly vulnerable discussing their conditions. We are dedicated to creating an environment that fosters easy conversation and feelings of safety when discussing any procedure. 
We make visits to LIV Wellness Lounge feel like a mini-vacation. A place you can go to get pampered and cared for and leave feeling more confident in your own skin.
The benefits of Botox at LIV Wellness Lounge | What to expect 
Consultation
All of our treatments begin with a complimentary consultation. Our team always takes the time to learn about your medical history and your desired results with your treatment. 
During your consultation we will discuss whether Botox or Xeomin makes more sense for you, and how much product you will need to accomplish your goals.
Treatment
Neurotoxin injections don't take very long at all, which can make them ideal for fitting into your busy schedule. They are also non-invasive, meaning there is no recovery time that you need to worry about.
The typical treatment only takes about 15 to 30 minutes, and there is no recovery period. There may be some slight pain or redness at the injection site, but this typically subsides within a half hour. We work to ensure all of our patients are as comfortable as possible during their treatment. 
Results
Your injector will take the time to discuss any necessary aftercare, but after your treatment you are free to get back to your day! Most patients see results within 3 to 4 days of their treatment, with the results most clearly appearing about two weeks later. 
How often do you need to get neurotoxins injections?
Your body's metabolism is going to directly impact the effect of neurotoxin injections. This means that the results can vary from person to person. However, most patients see results lasting for about 3 to 4 months. 
To maintain the best results possible, it's important to come in for your next injections as soon as you see the wrinkles returning. If you wait too long the muscles will have more time to deepen the wrinkle. This may mean that you need more products to achieve the same results.
Who is a candidate for Botox?
Anyone 18 years of age or older is able to receive neurotoxin treatments. Neurotoxins aren't just used for their anti-aging effects anymore, and can be used to treat a variety of conditions. 
What can be treated with neurotoxins?
The first and most common use of neurotoxins is for treating wrinkles and lines, although there are other uses and benefits of Botox.
Common Treatment Areas
Crow's feet around the eyes

11's/frown lines between the eyebrows

Forehead lines
Other Treatable Conditions
TMJ (
temporomandibular joints) 
These are the two joints connecting your lower jaw to your skull. Some patients with TMJ issues can use neurotoxin injections to relieve the pain in this area.
DAOs (depressor anguli ois) 
When the muscles at the corners of your mouth are tense it can cause a perpetual frown. Neurotoxins relax the muscle, resulting in a more natural resting face.
"Tech Neck" 
These days we're all a little guilty of spending too much time on our screen. The act of constantly looking down causes stress in the neck and shoulders, which can lead to pain, stiffness, and headaches. Along with improving posture, neurotoxin injections can help alleviate some of those issues by relaxing the platysmal bands.
Sweating (hyperhidrosis)
Excessive sweating can be a source of stress and insecurity. The most common areas affected are the under arms, the scalp, hands and feet. Neurotoxins block the nerve signals that cause sweating. Patients typically need repeat treatments every 4 to 6 months as the nerves regenerate, but over time are able to longer between treatments.
Chin Dimpling 
As we get older, we lose volume in our chin area, making the muscle movements more visible. This muscle movement can cause dimpling or wrinkling, some refer to as an "orange peel" effect. 
Lip Flip 
Injecting a neurotoxin into the upper lip is a subtle enhancement that can make your lip look fuller without adding volume like a lip filler. A lip flip can be used to compliment the work of a lip filler. (More on combination treatments below!)
Gummy Smile
Some people may find themselves feeling self conscious about the prominent appearance of their gums in their smile. We inject neurotoxins into the upper lip to reduce the appearance of gums.
Migraines 
Patients who suffer from frequent migraines may find that neurotoxins injected at the temples can relieve the pain and frequency.
The benefits of Botox |  Using neurotoxins as prevention with "Baby Botox"
In the past, most people didn't start thinking about getting Botox until lines and wrinkles have already started to appear. However, in recent years there's been an increase in patients wanting to receive "baby botox" as a way to prevent wrinkles from forming in the first place.
This procedure is called "baby botox" because it uses less neurotoxin than a traditional treatment. It is a great entry point for those who haven't used botox before and are wanting to test the waters.
Baby Botox works exactly like regular botox and is injected under the skin at places where wrinkles are most likely to appear. Smaller injections can also be great for more delicate areas of the face.
Using neurotoxins in combination with other aesthetic treatments 
Depending on the results you want to see, your injector may recommend another treatment to combine with your neurotoxin injection for even better benefits. This conversation would happen during your consultation.
At LIV Wellness Lounge, we are always looking to customize your treatments based on your individual request and needs. These are some common treatments that are recommended in combination with neurotoxin injections!
Dermal Fillers 
Fillers can help enhance skin volume and elasticity to improve skin's overall structure and appearance.
PDO Threads 
Sometimes called a non-surgical facelift, PDO threads are one of the latest advancements in aesthetics to promote new collagen production.
Exilis Ultra 360 
Using radiofrequency and ultrasound technology, Exilis Ultra is a non-invasive treatment that helps melt fat and tighten skin around the face.
Our recent guide to summer skin care in LaSalle also details some of our other aesthetic treatments you may want to consider!
Learn more about the benefits of Botox in LaSalle
Neurotoxin injectables like Botox and Xeomin can be a useful tool to help you look and feel better. At LIV Wellness Lounge, we believe that everybody deserves wellness that is accessible to them. 
Consider using our virtual consultation tool to learn more about what services and treatments we have available. 
Our team is excited to partner with you wherever you are on your journey! We know that the provider and client relationship is the foundation to successful healthcare. We serve clients from all over the Chicago suburban area like Naperville and Jolier; many people come to LaSalle and make a day out of it before or after their appointment with us!
Your LIV Wellness Lounge provider is ready to talk honestly with you about your aesthetic goals and desires, and build a treatment plan that is right for you!